Yup I'm back to blogging :>
I've been cooking more often lately in an effort to not eat out so much, both for health and money reasons. Consequently I've been experimenting. When I cook, I experiment. Part of this involves picking up random things at the supermarket, or the various odd little mexican/asian/hippy-food groceries I like to wander thru on occasion. On this occasion, the oddity of the week was some baccalà. Baccalà is salt-cod, dried, salted codfish. It keeps well, as it will last basically forever as long as you keep it cool and dry. To use it you soak it in a bowl of water overnight in the refridgerator, changing the water 2-3 times.
Here's the results of my experimenting.
Beer braised Baccalà:
Ingredients:
1 lb baccalà/salt-cod (I used christobol brand), soaked (see above)
1/2 cup chicken broth
1 med onion, finely chopped
1 green bell pepper, cored, seeded, and thin sliced
olive oil
2 tbsp butter
4-5 tbsp tomato, spinach and cheese pasta sauce [1]
1/2 to 3/4 cup beer (preferrably a good wheat beer, like a dark wheat bock. I used Sam Adams dark wheat bock/winter brew)
Note: [1] Use good pasta sauce, or make your own, it's just crushed tomatoes, spinach, provolone, parmesan, garlic and/or oregeno
Directions:

Bring 6 cups of water to a boil, an boil the fish for 15 min. Drain, and break into bite-sized pieces. Put aside.
in a sauté pan, melt 2 tbsp butter, and add olive oil.
sauté onions til tender and translucent , then add bell pepper. Let cook for 2-3 min covered.
Add chicken stock, and pasta sauce to onions and peppers, stir
Add in the baccalà, and the beer. Stir to coat the fish. You want enough liquid to braise the fish in, but not enough to cover it.
Cover pan, simmer on low heat for 1 hr. Check periodically to make sure sauce does not dry out. If it looks low, add a little hot water, or more beer, if you like.
Done! Serve as is, or over rice or vermicelli noodles.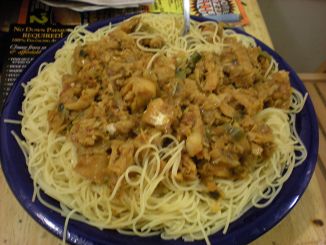 Serves 2 - 4.
Seafood + Beer. It don't get better than that.